Allergies Are Challenging
When you suffer from a pet dander allergy, you may worry that you'll never be able to enjoy the companionship of a pet. Fortunately, hypoallergenic pets are an option for many. TR Doodles is proud to breed hypoallergenic doodles. But what is the difference between the various generational options?
For over 22 years, we've been breeding and raising allergy friendly puppies  for families with mild to severe allergy concerns. Please see our info below to help you pinpoint which doodle would be just right for your family.
What Does Hypoallergenic Mean?
Every dog breed creates dander and sheds hair, which may irritate people with specific allergies and trigger symptoms like sneezing and itchiness. However, certain designer-breed puppies are hypoallergenic, meaning they produce less dander and shed less, thus reducing the potential for irritation and symptoms.
That is why our goldendoodles, bernedoodles and sheepadoodles are excellent for people with allergies. While there is still some risk of an allergic reaction, the possibility is significantly lower. To determine whether our low-shedding puppies are right for you, we recommend the following chart to help in your decision process. We do not do any allergy testing on parent dogs or other similar generation doodles to "see how you react".  Unless you are exposed directly to the litter that you are adopting from, such testing is futile.  We have see people have a severe reaction to one or both parents and be totally fine with their offspring.  Why is this? Because genetics are amazing and the DNA makeup of each litter is unique to those puppies.  If allergies are a concern for you, I would recommend that you place your deposit right away on the litter that you feel is best for your family.  This reserves a puppy for you and holds your selection spot.  Then when you come for puppy visitation at four weeks, we will introduce you to the entire litter.  You will snuggle those sweet puppies in your face.  Get them to lick your hands, and spend a good chunk of time petting and holding each puppy.  99.9% of the time, that will tell us if you are allergic or not to the puppies. When you're ready to apply, visit our online application page and fill in your information. We'd love to meet you and help find the right puppy for you.
Doodle Generations and Allergy Scales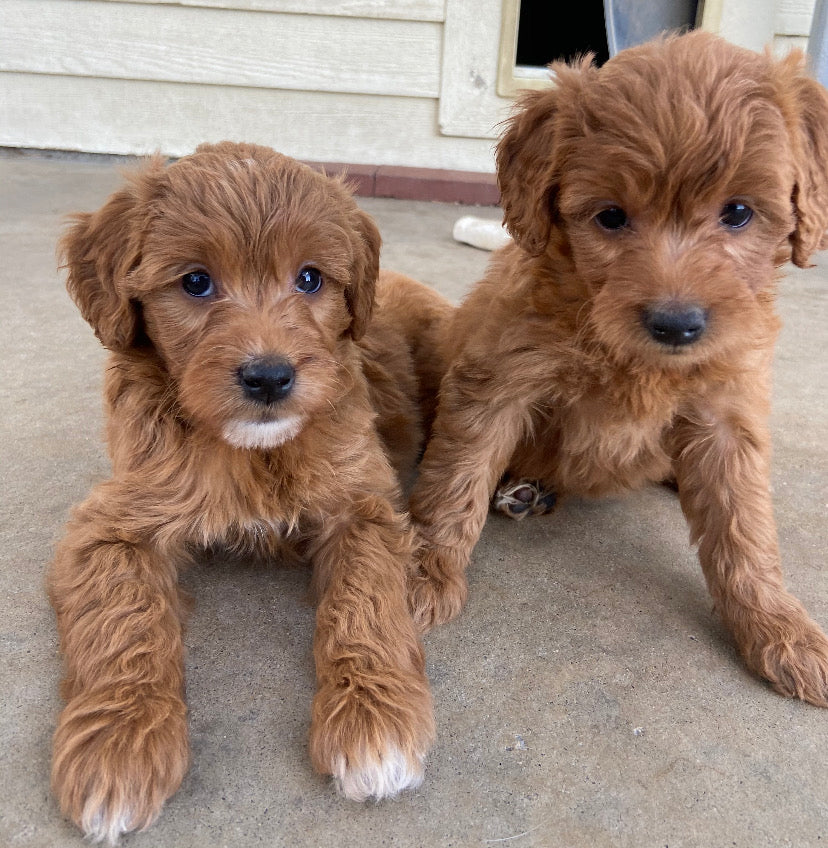 F1: First generation and closest characteristics to their parents

*Usually a soft wavy coat with minimal shedding

*Great for families with mild to no allergy concerns
F1b: A second generation that comes from an F1 who is backcrossed with a poodle

*Usually a curly, poodle like coat.

*Non shedding

*Great for families with moderate to severe allergies
F2b: An F1 doodle who is bred to an F1b doodle

*Usually a wavy or curly coat

*Non shedding

*Great for families who want a looser curl but with no shedding

*Mild to severe allergy friendliness
Multi-generation doodle

*A third generation or beyond is considered a multi-gen

*Non shedding, curly coat (sometimes we get a wavy coat too!)

*Excellent for severe allergy concerns